Discount Fence Co.
Dog Kennels
1-856-662-3465
Pennsauken, NJ 08110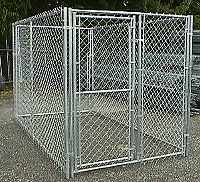 No holes to dig
No concrete to mix
No wire to stretch
Just 8 clamps
Just 8 nuts & bolts
Just 10 min. to set up
Premium Portable Dog Kennels in Pennsauken, NJ
Protect your pets with solutions from Discount Fence Co. Inc., the leading supplier of portable dog kennels in Pennsauken, NJ, for indoor and outdoor use. Whether you order one of our standard sizes or a custom kennel, you can count on us to deliver a strong, free-standing product that's easy to set up and gives your pet maximum security and safety. We offer:
Standard Size Kennels - 5' Wide & 10' Long
Stock Sizes - 4', 5', & 6' High
Complete Kennels, including 1 Gate Section, 2 Side Sections, & 1 Back Section
Custom Options
Our standard kennels are basic modular units that you can use individually for your immediate needs or combined later for future requirements. That said, the only limit for our portable dog kennels is your imagination, thanks to our customization services.
We continuously strive for an easy, personalized customer experience that lets you make the most of our products while retaining the freedom to create the kennel your dog deserves. For effective, comfortable, and safety-focused enclosures, count on Discount Fence Co. Inc. Contact us today to place your order for a standard kennel or start the customization process.
Easy Set-Up
Building the right space for your dogs doesn't have to take a lot of time and stress. We've designed all of our portable dog kennels for a streamlined, simplified installation process that features:
No Holes to Dig
No Concrete to Mix
No Wire to Stretch
Just 8 Clamps
Just 8 Nuts & Bolts
Just 10 Minutes to Set Up
Galvanized Steel Clamps for Sturdy Assembly (2 per Section)
Best of all, our products include everything you need to design a kennel that stands up under pressure. Utilizing the power of modern fencing, we blend strength and convenience into one set of materials that you can trust to contain and protect your four-legged friends without a hassle. Plus, if you have any questions about setting up your new portable dog kennel, our team will be happy to help you.
Long-Lasting Construction
The keys to reliable kennel construction are the same as for any other project: strong materials and a design process that offers long-lasting integrity and a good fit for your needs. Our portable dog kennels may be affordable, but they also incorporate these central advantages to maximize value:
All galvanized materials are long-lasting and durable.
All panels are preassembled.
All corners are notched and welded for strength.
Kennels can be custom built to any size.

Call for low prices!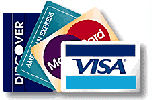 The size and shape of our kennel runs are limited only by your imagination or need. Kennels are basic modular units and can be combined to meet your immediate or future requirements.




No holes to dig
No concrete to mix
No wire to stretch
Just 8 clamps
Just 8 nuts & bolts
Just 10 min. to set up
Galvanized steel clamps for sturdy assembly

2 per section
Standard size kennels 5' wide & 10' long
Stock sizes 4', 5', & 6' high
Each complete kennel contains one gate section, two side sections & one back section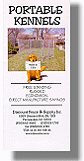 Download our brochure (PDF)
Construction All galvanized materials for long lasting and durability.
All panels are preassembled.
All corners are notched and welded for strength.
Kennels can be custom built to any size.
---

sales@fenceinc.com