Welcome to our showroom.
This is where you will find links to all the products our company sells and installs.
We take pride in having thousands of items in stockfor pick up or delivery. Our gate department is one of the most complete in South Jersey. So please take a few moments and check our links and see what we can do for you.



Our Fax # 856-665-1033
Discount Fence Co.


For the Do-It-Yourselfer we offer complete customer assistance in preparing material lists with expert advice. Follow the links in our showroom to find an extensive list of chain link fence, fittings, gates, completed projects and related items.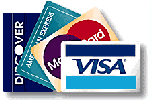 1-800-630-9720
New Jersey Licensed Contractor #
13VH00897600
Office of the Attorney General Division of Consumer Affairs
View on line vinyl fence catalogs